The Final Show
July 23, 2010
This Sunday, July 25, 2010 will be the final Terry Anderson Show. It will be a two hour show (9pm-11pm PDT). KRLA 870AM in Los Angeles and KFNX 1100 in Phoenix will carry the two hours live. KDWN 720 in Las Vegas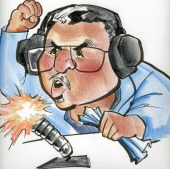 will carry the first Hour live (9PM-10PM) live, and the second hour (10PM-11PM) at midnight. The listeners from KDWN can call in during the second hour and then hear the replay at midnight to one. KCBQ 1170AM in San Diego you will hear a replay of this final show sometime in the future. Call the station to find out when. RBN will air as usual.
There are many guests lined up for the first hour, no listeners calls (9PM-10PM). Listener calls from (10PM-11PM). Be prepared when you call and be brief.
I know how deeply Terry felt about his listeners and all of those great donors that kept the show on the air. The people Terry surrounded himself with felt as Terry did. Everyone did their best to put on a great show. Associate producer Mel missed two shows in three years. Terry's family was incredibly supportive at a great personal sacrifice and that usually goes unseen. Folks, those are my words not the family's.
Its been both a professional and personal pleasure working with Terry and Melanie all these years. I'll never stop missing him.
Michael Wolner
Producer
The Terry Anderson Show